Packaging & Storage Boxes in Birmingham & Solihull
Being based in Solihull, we are perfectly located to provide packaging services to both Birmingham and Solihull. We have a wealth of experience in packaging and both domestic and commercial storage, so if you would like to hear more about the storage boxes we have available, please call us on 01675 442827 or fill out our simple online contact form.
Important Packaging Solutions
At Arden Self Storage, we supply a range of packaging solutions to protect your items whilst they are in storage at our facility in Solihull. From packing boxes to bubble wrap and beyond, we have the essentials you need to keep your belongings safe and secure.
Whether you're storing large items like furniture or smaller, fragile items which require plenty of packaging to protect them, our affordable supplies mean it won't break the bank to ensure your belongings are packed correctly.
Safe and Secure Storage Facility
Your items will be safe and secure in the alarmed, humidity controlled units at our site in Solihull, near Birmingham. However, careful packaging will also provide your items with an extra level of protection – and you with the additional peace of mind that your belongings will not become damaged.
Our facilities are state of the art. We have spent a lot of time developing, honing and perfecting the storage experience we offer to all of our customers and we are consciously improving all the time. Implementations, like our CCTV system and our solar panels, are utilised to their full potential by offering a higher level of security and keeping our running costs down, respectively.
Safe and Secure Storage Facility
For the past 7 years, we have developed a growing customer base from our native Solihull, throughout Birmingham and beyond. Our customers appreciate the professionalism of our team and our attention to detail in comparison to our competitors. We are dedicated to providing the best, full-circle storage experience.
Contact Us
Please see our size and pricing guide to the right hand side of this page, showing you what is available. For more information on the packaging services we offer here at Arden Self Storage, please call us on 01675 442 827, visit us or fill in our online contact form.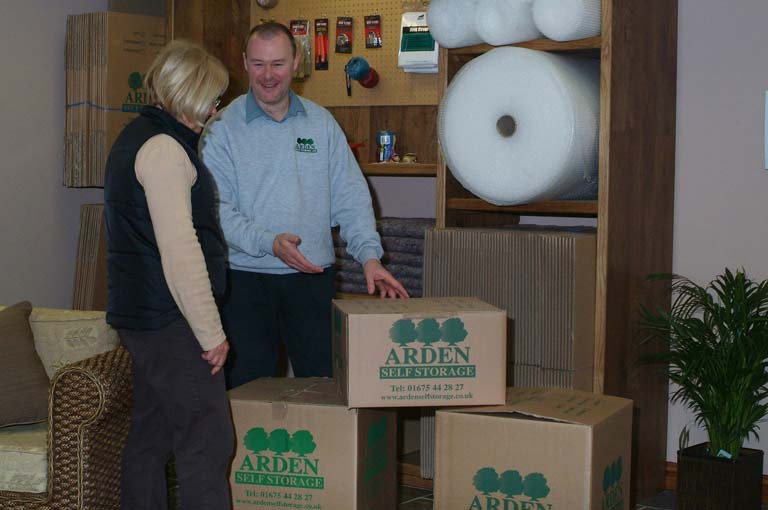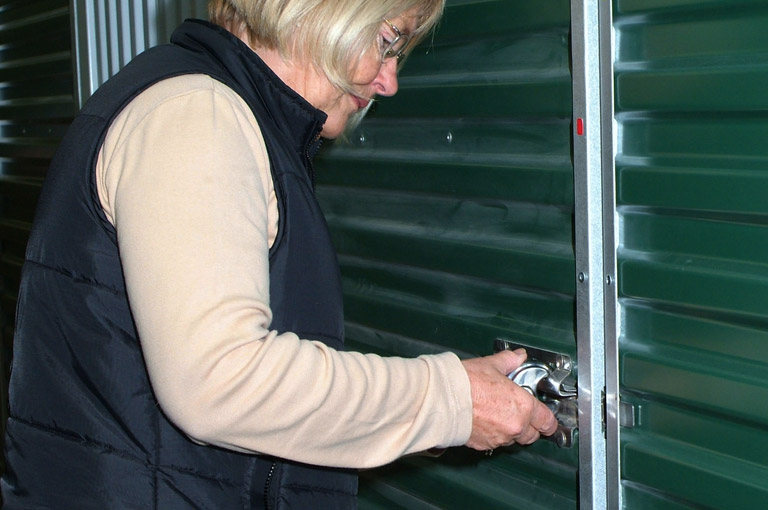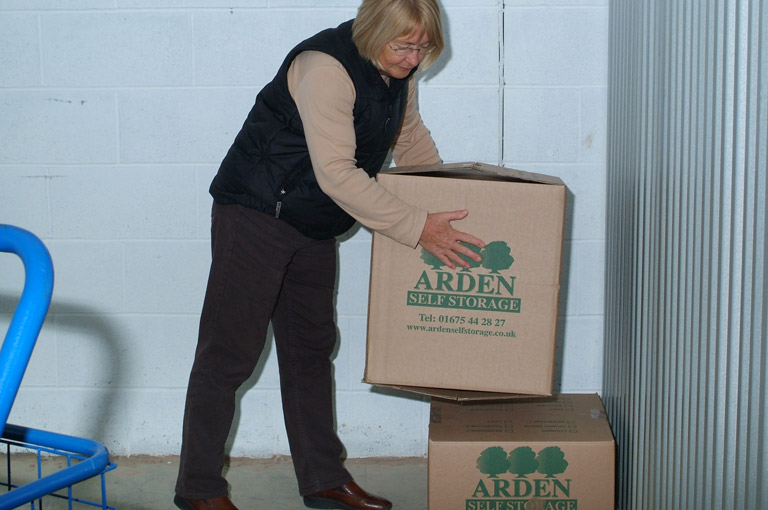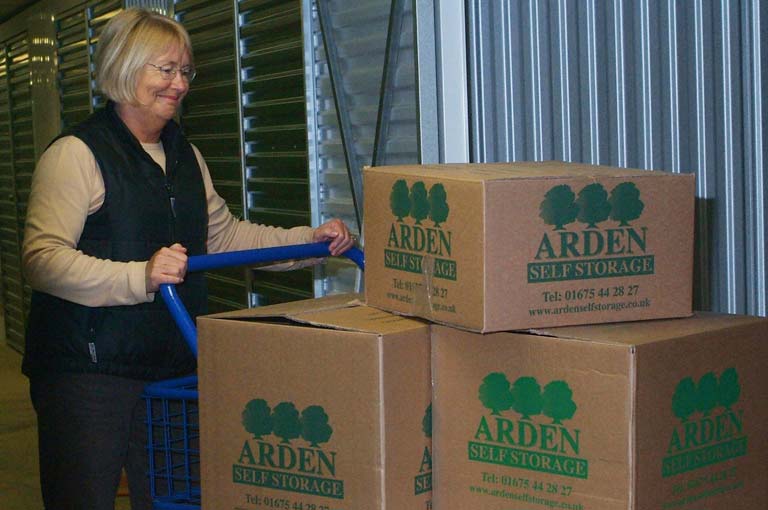 | Packaging | Price |
| --- | --- |
| Padlock & Key: 45mm Laminated | £8.00 |
| Padlock & Key: 70mm Round | £10.00 |
| Loose Fill: Per Bag | £9.50 |
| Packing Box: 457 x 457 x 245 | £3.00 |
| Packing Box: 457 x 457 x 508 | £4.50 |
| Bubble Wrap: Per Metre | £0.60 |
| Packing Paper Sheets: Per 5kg Pack | £9.50 |
| Storage Blanket: Per Blanket | £6.00 |
| Marker Pens: Per Pen | £1.50 |
| Dust Cover Sheets: Per Sheet | £7.50 |
| Tape Guns: Per Gun | £6.00 |
| Sealing Tape: Per Roll | £0.60 |
| Gloves: Per Pair | £3.60 |
| Knives: Per Knife | £2.00 |
| String: Per Ball | £1.50 |
What our clients had to say...
Thanks for your help when storing our belongings during our house move. You were more than helpful and I would not hesitate in using you again or recommending you to friends and family. The service Simon & Ian provided was excellent.
Jayne & Mike
Just a word of thanks, Simon; Linda was very pleased with the M&S voucher.
Our experience with Arden Self Storage, and in particular with yourself, has been very good indeed. Needless to say, the good word will be passed on. We wish you and yours a very Merry Christmas.
Peter & Linda
Thank you so much for all your kind help, you're one of the best. See you again.
Gail & Steve Taylor
As a customer of Arden Self Storage for two years, I am reluctant to take my storage needs elsewhere. They have provided an efficient, professional, safe flexible and friendly service to me which will be hard to match when I relocate to the south of England. My goods were kept dry and safe and in perfect condition and Arden staff did everything they could to meet my needs as a customer living overseas.
Alex
I would like to say that we have been extremely happy with the facilities and service provided by you. It has been trouble-free, the building is easily accessible and clean and it has been very useful being able to buy boxes from the office. We would have no reservations whatsoever about recommending you to other people. Thanks for the great service!
Richard Fearn – West Midlands
I recently had a need to use your facilities as when moving house, there was a short gap between leaving the one and moving in the other.
'Helpful' does not quite cover the service I received from everyone at Arden Self Storage. Nothing appears to be too much trouble and I was even lent a sack truck to unload at the other end. The facilities are exceptionally clean and everything is on hand to help you unload or reload. There is always someone at the office during normal hours, which helps a lot and when using the after-hours codes I had no trouble at all.
Well done all, I would not hesitate to use you again and have already recommended you to a number of friends and colleagues.
Tim Rudge
We wanted to say thank you to Arden Self Storage for being a pleasure to deal with. From renting 1 unit from you in preparation for our house move. We were so impressed, we rented a second.
You provided us with excellent customer service & your storage units are exceptionally clean, secure & great value for money. We would highly recommend Arden to anyone looking for this service. Just one last thing to any ladies out there, this is the best place we found where I could go on my own & feel safe regardless of time.
Mary-Pat & Tim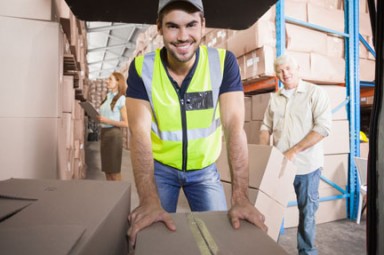 Van Available
If required we can also recommend a 'man and a van' to help with moving any larger items to and from your storage unit. Please enquire at reception for this service.
Packaging Supplies
At Arden Self Storage, we can also provide packaging supplies such as boxes (including archival boxes), bubble wrap, dust covers, loose fill and tape. Please contact us to order your packing supplies on 01675 44 28 27 or fill in our online enquiry form.