How Self Storage Can Help When Moving House
How Self Storage Can Help When Moving House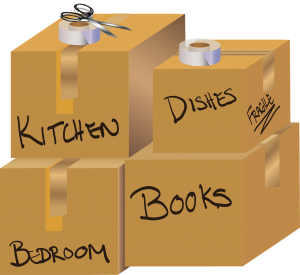 Moving house is stressful. There are so many things to think about, so much to do, plan and prepare for. However, using a self storage unit can make this process a little easier, and far more efficient! Here are our top reasons why using a self storage unit when moving house can drastically help you during this stressful life change. 
Chance to declutter and upcycle
We all have rooms in our house that we have been meaning to tidy up, items we've said we'll get rid of, take to the dump or sell. But, somehow we never have the time. Or, more truthfully, we always have an endless stream of excuses and jobs that are far more important which we must do first. So naturally, decluttering falls by the wayside and to the bottom of our 'to do' list. 
If you are moving house imminently, and moving day is looming ever closer. Then it seems daunting, when looking at the amount of stuff you own, to tackle and begin the process of packing up your life into boxes. Removal companies often charge by how long it takes to pack up your belongings, and how many journeys they make. Therefore, it makes sense to carry out your own decluttering as much as you can beforehand. If you move items yourself and place them into self storage in advance, it will reduce your moving time and the costs involved.
Decluttering is a key way of filtering out all the stuff we don't need or use. By stripping our belongings back to basics, it allows us to reassess how and what will fit into our new home. When you're settled into your new place, you can make informed, cut-throat decisions, on what to keep and what to sell, give away or bin.
Find yourself between houses and in temporary accommodation?
Sometimes it's easier to sell your home first while you rent a house, or stay with family or friends before you find and move into a new home. This means you can sell your house quickly without asking the buyers to delay, and risk the sale falling through.
Whilst you stay in temporary accommodation, you may not have room for all of your furniture and belongings. Equally, the thought of unpacking out-of-season clothing, old photo albums and numerous books seems like a lot of unnecessary work if you are not planning on staying for long. Plus, your family may thank you for not bringing your entire house contents and trying to fit it into theirs! It makes perfect sense to only take essential day-to-day items and put the rest into a convenient storage unit until you're settled and back living in your own place.
For unexpected problems on moving day
Sometimes things do not always go to plan. That's life. If something unexpected happens, or goes wrong on moving day, it is always a good idea to have a backup plan – just in case. You can't predict if something will go wrong in the chain of buying and selling houses, or if there are issues with removal companies, or packing your car. Self storage units allow you to put all your belongings into a clean, dry and secure storage unit, for as long as you need.
You can unpack at your own pace
Slow and steady wins the race. There is a temptation and pressure to move into a new home quickly and get settled in as soon as moving day is over. But, choosing to unpack at a slower rate has many advantages. You can clean your new house properly, take the time to plan exactly what you want in each room and how you'll use the space. Keeping everything except the day-to-day basics and essentials in self storage for a few days or weeks means you can be highly efficient and feel a little more in control over an otherwise stressful situation.
If your new home needs redecorating or renovations
Perhaps, you're planning on knocking down a wall to merge the dining room and kitchen, or you'd like to repurpose existing rooms, paint the walls, or fit new carpets. Depending on the condition of your new home, and whether you would like to carry out some redecorating and/ or renovations for it to feel more like your home, it's so much easier to begin the process without having to move and protect your furniture and personal belongings. That's where self storage can help you out. If you only take the essentials into your new home, you can store everything else with Arden Self Storage Limited, and get started on those home improvement projects right away.
Contact Arden Self Storage Limited
If you're looking for a self storage facility in Solihull or Birmingham, you can contact Arden Self Storage Limited today. Our units offer excellent safety and security features to keep your belongings safe and in excellent condition. To learn more or enquire, please contact our team by calling 01675 442 827 or filling out our online contact form.